A 27-year-old man nicknamed Cybok is a heavy-metal fan from the southern African nation of Botswana. Photographer Pep Bonet documented the metal subculture there in December. "I started listening to heavy metal in 2008," Cybok told Bonet. "I liked the way the metalheads dressed and behaved, so I started associating myself with them and I became a rocker."
Pep Bonet
started documenting the rock 'n' roll scene in 2008. He photographed the British band Motorhead, spending years on the road with legendary singer Lemmy Kilmister.
But soon he discovered there were heavy-metal lovers in a different part of the world.
"I heard about these guys in Botswana," Bonet said. "A lot of people think rock 'n' roll is a white man thing, and I'm thinking no way. I think it's black and white and anything in between."
Bonet got in touch with a man nicknamed Vulture, seen in photo No. 10. He said Vulture is a singer and bass player in the best band in Botswana, Overthrust.
And with Vulture's welcome wishes, the photographer set off for Gaborone, the country's capital, in December.
Bonet points out that the title of his photo series "The Hellbangers" is a play on "headbangers," the heavy-metal fans who go to concerts and shake their heads along with the music. And he adds that it also has to do with how metal music is usually "related more to hell than to heaven, let's say."
Bonet

said they don't have metal albums or clothes they can buy in Botswana. Instead, they put on their own concerts and buy leather to make their own outfits.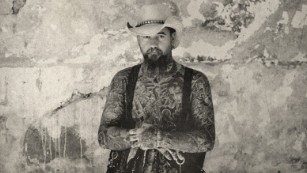 Photographer Pep Bonet
One of Bonet's favorite moments was when he first arrived and he and Vulture went to pick up a rental car.
"They gave us a car with the plate number 666," Bonet said. "That was kind of like, f***ing A, that's something."
In Gaborone, Vulture introduced the Spanish photographer to his metalhead friends.
"They're like huge music bibles," Bonet said. "They know every metal band, from Metallica to Iron Maiden to the older guys like Deep Purple. They know who is the singer, who is the bass player, who is the drummer."
The tattooed photographer is no stranger to that kind of music. Ever since he was a child, he has loved metal.
"When I got (to Botswana), I got a monkey skull with a chain and some things which I had to wear, which I love to wear," he said. "It was like visiting friends here in Spain and basically: hang out with them, have some beers, listen to music and then, 'OK, let's go to the bar and keep on drinking and listen to heavy-metal music.' "
According to Bonet, the people he met were able to learn about metal via the Internet. He says they don't have metal albums or clothes they can buy in their country.
"I am a cowboy," said a man who identifies as "King Taker." "I'm self-employed, and I deal with metal works such as welding and other stuff. I became a cowboy in 1993. I watched too much cowboy movies such as 'The Good, the Bad and the Ugly,' and I was influenced, I wanted to be like them. So in 2003, I became a brutal cowboy. ... I'm a cowboy who listens to metal because I love metal music, I have friends who are metalheads, and I have

spent the rest of my life in metal scene and attending shows. My favorite bands are Amon Amarth and Manowar."
Instead, they put on their own concerts and radio program, and they buy leather to make outfits. "Desert Super Power," in photo No. 7, designs many of the clothes for those in the heavy-metal scene.
"It's a community that is very accepting for you to become one of them," Bonet said. "There is a place for everyone who likes rock 'n' roll to be themselves, and they will embrace you and you can talk to them."
And it's not just a community of men. Just look at Lady Rocker in photo No. 5, who started listening to heavy metal about 14 years ago.
"It's not a man's club," the photographer said. "It's open."
"I love metal," said "Satanica." "I started listening to metal in 1998. A guy by the name (of) Basha initiated me into metal. When I was with him, he listened to Dire Straits and AC/DC."
Bonet is no stranger to Africa, either. He has documented the continent extensively, covering
the impact of low-interest, microcredit loans
on the lives of poor women in Morocco; the aftermath of the civil war in Sierra Leone; child mortality in Chad; and the collapse of the Siad Barre regime in Somalia.
Every year, Nikon sponsors a project in collaboration with Noor, the photo agency and foundation Bonet is a member of. Noor means "light" in Arabic, and Bonet's "The Hellbangers" is part of the latest collaboration,
"Noor on Africa,"
or "light on Africa."
"I think at a point, after 20 years of shooting issues in Africa, a lot of people came to me and said: 'But don't people laugh in Africa? Aren't there positive stories in Africa?' " Bonet said. "I found that with photography sometimes we stigmatize, more than they are, people that have issues."
Bonet observed that Botswana's heavy-metal community is well-respected by their society. But he acknowledges that this might not be the case outside the city in rural areas, or even in other African countries.
"I am a farmer," said "Diplo." "I started listening to metal music in 1999. My sister was married to a white man from England who heavily influenced me to listen to metal. By then, I was just listening to that music not knowing it was called metal, up to until I learned about metal and started buying metal attire for myself. I listened to bands like Led Zeppelin and Deep Purple."
He attributes such acceptance and tolerance to the nation itself.
"This year, it's their 50th anniversary for independence and democracy, and I think because of the situation of the country -- of peace and good economics -- this allows for people to be themselves," Bonet said.
Going to Gaborone and photographing the heavy metal community was love at first sight, he said.
"For me, it opened my eyes a little bit and my mind to say, 'There are other stories in Africa which are worth looking at,' " he said. "They might not be the obvious ones, but with a bit of research and a bit of patience and a lot of love, they can be done."
Bonet is not finished with this body of work just yet. He plans not only to go back to Botswana, but to explore the metal communities in other African countries as well.
"In the future I hope there are many, many, more African people becoming 'hellbangers' and making their own music with their own roots and with their own way of doing things," he said.
"Vulture" is the front man for Overthrust, a popular local band. "I am a rocker, I live for rock 'n' roll, and I'll die a true, loyal metal warrior," he told Bonet. "Anything that is not metal doesn't make sense to me."
"They have a naivety, or an innocence, which a lot of the bands in America, for example, or in Europe, have lost. Every band resembles another band. If you hear the metal from Botswana, it doesn't look or sound like any other band, and that is, for me, very, very special."
"I am an art student in a tertiary school," said "Crock." "I started listening to rock 'n' roll in 2003 when I was doing form two in a junior school, because I live a hard way of life and I discovered that metal was the music that suits me well and my lifestyle."
Pep Bonet
is a photographer based in Mallorca, Spain, and represented by
Noor
. You can follow him on
Facebook
,
Instagram
and
Twitter
.