Trying to figure out what to add to your collection, hell why not add a voodoo doll of Jeff Clayton of the almighty Antiseen. We are hoping that with our copy by adding some gypsy tears, black widow entrails and maybe an extra splash of unicorn blood, we can make a Mini Me of this here action figure.
Order your copy of Jeff Clayton as a Throbblehead
(larger photos below)
"2012 marks the return of punk legends ANTiSEEN!
Switchlight Records released "NEW BLOOD" this week in the US, a compilation of singles from 2008 - 2011 all put together into one kick-ass album. "NEW BLOOD" features 13 tracks including, among others, the collaboration with Joe Buck (Joe Buck yourself, Hank 3) on "Black Eyed Susie", covers of Ramones and The Sonics and also some new tracks including THE MYSTERIOUS GREEN MIST. The CD is limited to 1000 copies and comes in a cool digipack cover. The LP version is limited to 500 hand-numbered copies only, on ORANGE colored vinyl and includes free download code.
Jeff Clayton, the chaos-causing creator of ANTiSEEN, has been throbble-ized! Aggronautix, the punk rock toy people, have created this figure capturing Jeff in full-on Destructo mode. It is limited to 500 numbered units, stands at 7 inches tall, and is made of polyresin. While it's labeled a Throbblehead, it's actually Jeff's arm that does all the movement, punishing everything in sight with his signature barbed-wire bat. Get out the way as Jeff stands ready to rock your fucking face off. He's accurately sculpted right down to the flannel shirt, gridly hair, and well-traveled forehead.
"I cannot describe the pride and honor I feel being made into a graven image (or voodoo doll, whichever you prefer) by the fine folks at Aggronautix," said Clayton. "It's proof that prayer does work... 'cuz yours have been answered!"
The BOYS FROM BRUTALSVILLE are nothing short of legends. For almost 30 years they have been playing by their own rules not giving a shit about what anybody says. ANTiSEEN started in 1983 with founding members Jeff Clayton and Joe Young. Named as a mis-spelling of the term "anti - scene", meaning, against any scene that has it's own rules, code of conduct, fashion and chain of command by hip scenesters... and as far as they are concerned - "It's only ROCK 'N" ROLL and we LOVE it!!!"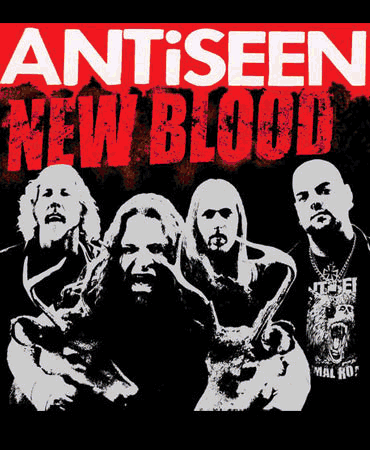 The current line up consist of Jeff Clayton,Joe Young, Jon Bowman and Phil Keller.The band has done five full European tours and played all over the USA with well over 50 releases world wide. They backed up now legendary scum lord GG ALLIN on his first post-prison release "MURDER JUNKIES" & also recorded with legendary ALICE COOPER guitarist Michael Bruce.
Their live shows is nothing less than spectacular; violent bursts of musical blitzkriegs, an unhealthy dose of pro wrestling influence that features barbed wire wrapped baseball bats or crowns of barbwire that cause REAL bloodshed and the occasional auto self destruct finale that got them labeled "Destructo Rock" early in the group's history.
Almost 30 years later the band shows no sign of packing it in or making changes to impress any major labels."
PHOTOS